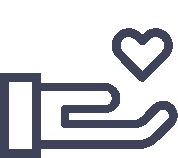 Even the greatest undertaking is inspired by the simplest and most natural of human impulses—the compassion to make a difference in the lives of others.
In 2001, a group of Chinese-Filipino businessmen and women decided to pool their resources together to extend help to those affected by natural calamities. After organizing various relief missions in remote towns struck by typhoons and flash floods, the group continued its service by reaching out to fire victims in Metro Manila areas.
​
Recognizing the overwhelming problems plaguing the country, the group committed to being part of the solution. However, realizing that organizing relief missions and providing relief goods were only temporary and short-term solutions to deeper problems, they sought to find more long-term and far-reaching solutions to the problems caused by poverty. Driven by their common desire, the group formed Charity First Foundation Inc, an organization committed to "helping people help themselves".
​
On July 1, 2001, Charity First Foundation was formally registered by the Securities and Exchange Commission, as a non-profit organization committed to improving the quality of life of the marginalized sectors of the country through its four main programs.